Bourne House Painters
Bourne house painters Pedersen Painting has been in business since 1975. Pedersen Painting offers quality service for all your painting or light carpentry needs. References supplied upon request. Fast, efficient, top quality workmanship is our guarantee.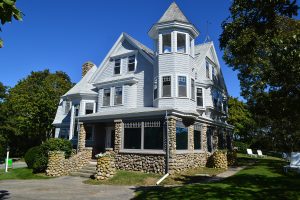 Pedersen painting is committed to a quality painting job on your property inside or out. The significant difference between a really good paint job, and a cheap, quick one is about the preparation before the paint brush even comes out. First we wash all the surfaces thoroughly, making sure that they are treated for mold, and all dust and loose paint is removed. Then we check for damage to trim and all woodwork, and repairs are made by our qualified, experienced carpenters who have years of experience.
Only when we are certain that everything is in order will we start painting. This does not mean that your job will take longer than our competitors like Stewart or Eagle Painting. We work on your job from start to finish, so you'll find we get done sooner. Our crews are all experienced local people who have worked with us for some time.
In the past we've been called in to look at a paint job by another company where the new paint was coming off after only a few months. After a little investigation we determined the paint was applied over dust and mold. They didn't wash the surface nor did they do any prep work before they started to slap up or spray the paint on.
So what did the homeowner end up doing?  They called us and then paid us to clean, properly prepare the surface,and repaint the whole exterior. They were forced to pay twice to finally get that high quality, long lasting exterior paint job they expected.
Call Pedersen Painting, the best Bourne MA house painters who do the job right the first time.
Some examples of our work:
Commercial painting: Falmouth First Congregational Church: 300 year old building, restored outer sanctuary and narthex. Complete renovation, floors to ceiling.
Residential painting: Featured in Cape Cod Home Annual Source Book, 2010, a 12,000 square foot private residence in Falmouth, Massachusetts.
As well as exterior painting, our experience with high end homes in the area means we can confidently take on finish work for specialized finishes including lacquer and varnish for hardwoods, on custom cabinetry and furniture. Do you have a challenging painting or finish job? Call the most professional Bourne house painters - Pedersen Painting - for a free estimate and we can advise you.
Click here for more information about us, and some testimonials from our satisfied customers