Siding Contractors – 30+ Years Experience
Exterior Painting Services
Proper, high quality exterior painting is very important for your home since it is your largest financial asset. As a homeowner, you must protect this asset. While many homeowners often change the interior paint to create a fresh and tidy appearance, the exterior paint surfaces of the home are often neglected. Exterior paint not only adds to the curb appeal, but it also provides weather protection for your home.
As seasons change, the exterior of your home is exposed to different elements. From harsh sunlight to heavy rainfall, this can be damaging to your exterior paint. Without a quality exterior paint job in place, this can put a huge strain on your wallet. At Pedersen Painting, our experts help protect your home with the care it deserves.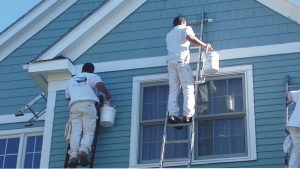 There is no denying the fact that over time, the exterior paint of your home can start to look dirty and dull. Combined with nature's elements, the outer walls and paint start to rapidly deteriorate and affect the aesthetics and appeal of your home. It's important that you hire a professional painting company to bring your home's beauty back.
Though your home to-do list might seem never-ending, you might want to consider bumping painting the exterior to the top of that list. Not only will painting the exterior increase your home's value, but it's also the simplest makeover your home can undergo. At Pedersen Painting, we only use the highest quality products to ensure the perfect finish.
Paint not only serves to make your home look beautiful, but it also acts as a protective layer between your home and the environment. When your paint reaches the end of its life, it's no longer able to properly protect the wood and materials of your home. A fresh siding exterior paint job helps your home last longer.
If you really want to stand out from other homes in the neighborhood, painting the exterior siding and trim of your home with eye-catching paint that is durable and low maintenance is the best way to go. At Pedersen Painting, our exterior painting contractors (siding and trim) ensure superior quality from start to finish. We invite you to experience the difference. Contact us today for your free consultation!
Best exterior painting contractors painting all across Sandwich MA.

Exterior house painters for the towns and villages of the Upper Cape.

Outdoor painting company for more than 3 decades.

Professional exterior commercial painter based in Bourne MA.

Top rated outside residential painters.

Commercial & residential siding and trim painting services for over 30 years!
Photos courtesy of David MacLean Architects