Painter – 30+ Years Experience
Exterior Trim Painting
Your home is your pride and joy. The place you love to admire as you drive up your driveway. Every neighborhood has a couple of homes that truly stand out. A professional, high quality exterior trim painting job adds beauty, personality, and striking contrast to your home. As a homeowner, you want everyone to take notice of your gorgeous painted trim.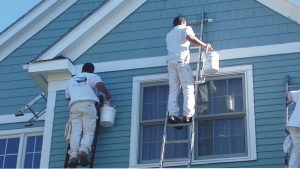 Just as painted interior trim enhances the beauty of the inside of your home, freshly painted exterior trim also adds to its curb appeal on the outside. Painting trim takes time, patience, proper preparation and attention to detail. At Pedersen Painting, we work closely with homeowners to make sure the finished product is accurate, cost effective, and fulfills all your needs and expectations.
Although trim fashions have changed throughout the years, painted exterior trim never goes out of style, and makes a big difference on the appearance of a home. From the subtle look with a lighter color, or the higher sheen look of a gloss finish, painted trim can create a sophisticated look for your home with professionally painted exterior trim.
If you are looking for an easy way to improve the exterior of your home without painting the entire house, painting your exterior trim could be the perfect solution. The right color exterior trim can take your home's curb appeal from drab and mundane to eye catching and desirable. Pedersen Painting makes your home stand out from the rest.
Exterior trim plays the important role of tying together the overall exterior look of your home. Professionally painted exterior trim makes a home more modern and appealing, especially around windows and doors which tends to draw more of people's attention. This provides you with an exciting opportunity to bring old tired colors back to life.
Freshly painted exterior trim can often be the difference between an average looking house and a show stopping house. Which house do you want to be? Pedersen Painting provides expert exterior trim painting services that gives you a transformational new look you will be sure to love. Contact us today to get started with your free consultation!
Exterior house trim painters.

Best trim painter serving Falmouth MA.

Mashpee exterior trim painting service.

Outside trim painting services.

Residential and commercial exterior trim painting contractors.

Highly rated exterior trim repair and painting contractor.

Outdoor trim painters.

Top exterior trim painting company on the Cape!
Photos Courtesy of David MacLean Architects